Cravings, Cleaning and Birth Plans - 33 Week Update
I realise I have been neglecting this blog recently and although there are no hard and fast rules about how often you have to blog to legitimately still call yourself a blogger, I'm pretty certain the eleven week gap since my last post puts me in the Shittiest Blogger Ever danger zone. The truth is, despite having greatly missed the typing and sharing of blog posts (undoubtedly my 'happy place', particularly when coupled with a hot chocolate and my dressing-gown), I've been at a bit of a loss as to what to say. Should I be providing something by way of an update? Does anybody actually care? But then this evening, as I found myself lining up my cleaning products in an orderly manner after having sprayed today's favourite cleaner on an already spotless surface (just so I could rub it in with a sponge and sniff it), I realised that all of a sudden I am feeling so very pregnant - proper pregnanty (not a word, but it should be) - and that not recording this stage of the third baby adventure would be stranger than doing so, somehow. I can only apologise in advance if you're not much interested in hearing about my obsession with all things anti-bacterial, or the trouble I've been having sleeping, or the crisis conversations I've been having with my husband over the state of things down there, but with just 7 weeks or so to go until D-day (arghhhh!), pregnancy has well and truly taken over. I know many of you are already aware that I haven't been sleeping very well for the last couple of months (I'm wide awake between midnight and 4am, sometimes longer) and I can't really be arsed to further dwell on it here for two reasons: 1) I'm really fucking bored of saying 'Nope, still not sleeping!' and 2) I have tried pretty much everything (reflexology is on this week's hit list) and I genuinely fear that if one more person suggests Lush sleepy cream, some kind of audio download or an increase in my magnesium intake I might not be able to stop myself from spraying them in the eye with my expensive relaxing pillow spray. You have all been so, so helpful (thank you!) but if it's legal, I've already tried it. Illegal ideas welcome (just kidding, sort of). There are a great many other pregnancy quirks that have materialised since I last blogged and the biggest two - not my boobs, though they are mahooosive - have been an obsession with cleaning and a love of ice cubes, both of which are repeat behaviours from previous pregnancies. I was told after the ice-cube crunching habit last time that I might have been suffering from an iron deficiency but I've just had all that stuff checked and we're all good, so it's not that. Whatever it is that is driving me to chomp frozen water it's really quite bizarre and even as I type this, I am thinking ahead to my next glass where I will add one whole tray of cubes to a third of a glass of water (I'm not really that fussed about the water to be honest but it does lubricate the cubes and stop them from getting stuck to my tongue. I know how to treat myself). When it comes to the cleaning, I am mainly spraying cleaning products and then scrubbing surfaces (just the thought of spraying and scrubbing with certain products instantly makes me feel calm) but there are also other things I feel compelled to do, like cleaning the shower tiles with an old toothbrush, disinfecting all the door handles in the house and using the tiny hoover attachment to get into the hard-to-reach room edges. I wrote in my first book that the Barry Scott adverts ('Bang! And the dirt is gone!') had practically become a turn-on at one point and this pregnancy is much the same. Footage of cleaning is like porn. Physically, I'm feeling pretty good, though the waddle has set in now. I don't weigh myself (not ever – we don't have scales) but I can see that the 'baby weight' has spread to unexpected places like my neck, back and chins. In fact, everything has got bigger and I mean everything (even bigger than at the last update). Last week, after a shaving session in the shower, where I was trying to address the Chewbacca state of body hair, I was so alarmed by the swollen appearance of things down below that I ran into the bedroom, dropped the towel and declared, 'My vagina is a monster!' to a startled James who then had to try to say all the right things when I begged him to have a look at it. He went with: "It looks fine, babe! If a little puffy. It's certainly not hideous." IT'S CERTAINLY NOT HIDEOUS?! That's a relief, then. All of the above pales into insignificance beside our little boy bump himself, of course, who we had the pleasure of seeing on the screen for a third time this week at our scan to check the progress/update of the low-lying placenta. The good news is the placenta has indeed moved (hurrah!) and the cervix is no longer obstructed. The bad news is that he is now breech, though I have it on good authority that seven weeks is plenty of time for him to assume the head-first position (Jude turned at 36 weeks) so I am not allowing that to worry me. Now that I'm back to Plan A of the lady-garden slide, and noting that my second labour was not the best experience (by 'not the best' I mean I completely lost my shit, panicked, shouted a lot and subsequently don't really allow myself to think about it) I've decided I'm going to have a bash at hypnobirthing this time, with my first session on Wednesday. Nothing ventured, nothing gained, right? I'll be heading into hospital for the birth again (I just feel safest there) and I am still very much hoping that I won't miss Christmas dinner, though obviously more than anything I just want him to arrive safely … any other day though, buddy, ANY other day (I am having guilty pangs in advance about the possibility of missing Christmas with Henry and Jude) And that's pretty much it by way of an update! I think it's unlikely that I will do another pregnancy-specific blog before he's here, but I have got a couple of other half-written posts in my drafts which if I can get my larger-than-usual arse in gear I will finish and publish soon. In the meantime, I will get back to my cleaning and ice-crunching and try my very best to stay calm about the Megafanny. xx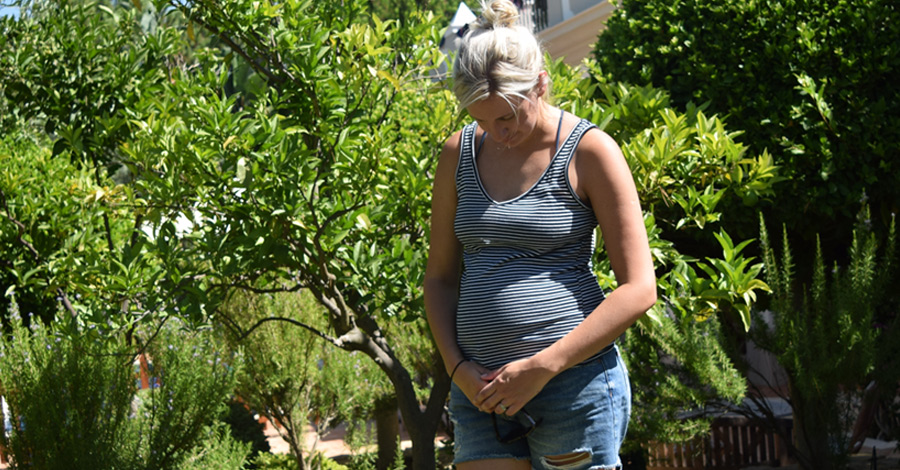 Sickness, Sex and Placentas – 20 Week Pregnancy Update
Yes, there is a bun in my lady oven! I know most people who follow me on social media will already be aware of this fact but I haven't blogged about this pregnancy yet (bar referencing my constant urge to wee in the recent tale of the pissy frying pan) and now that I have whizzed past the halfway mark it felt about the right time to offer something by way of an update. I suppose I should start at the very beginning. Well, not the very beginning, you probably don't need know how and when the bun got there, though evidently there are some people who would like this information (slightly disconcerting that Bev from Warminster reckons she's 'pinpointed the weekend of conception' and messaged to tell me so - she wasn't far off actually, round of applause for Bev). I found out that I was pregnant at around four weeks but decided to wait until sixteen weeks to 'go public' with an announcement and I did so for a number of reasons. The first was that I had an almighty 'do I really want to live this pregnancy online?' wobble which culminated in a dramatic 'I'm going to shut down all my social media accounts until after the baby is born!' episode. I am mostly blaming my hormones for that one, I just felt in that instant that I wanted to protect our baby secret and not start splashing him or her on the internet before they were the size of a fig. I'll be totally honest, I also had an underlying feeling of dread that people would think our decision to have another baby was somehow grounded in a desire to produce more blog/book material, which couldn't be further from the truth. There are, in fact, a multitude of reasons why we felt three was our magic number and I think perhaps those warrant a blog post of their own (I know, I know, it may not have been the motive but being preggers really does provide a wealth of blog material). So, how have the first five months of pregnancy been, this time around? Well, I'm feeling pretty spritely now but I would be lying if I told you that the first four months were anything but shit. The pregnancy sickness was by far the worst I have ever had, kicking in at around six weeks and lasting until week seventeen. I wasn't alarmingly ill during any of those weeks and having read several accounts of Hyperemesis Gravidarum, including this one from Susie Verrill (who was effectively bedridden for two months and spent Christmas Day trying to nibble a potato over a sick bag), I considered myself lucky to be functioning at all. I promised myself that I wouldn't moan, constantly reminding myself of how fortunate I was to be carrying another baby and yet there were days when I struggled to see the light. Feeling sick all the time is simply exhausting. I don't think there was a single moment in those eleven weeks when I didn't feel nauseous and at around 4PM every day 'feeling off' turned into retching and vomiting. I counted forty-three consecutive days when my evening meal came back up and sometimes that 'meal' was half a slice of dry toast. At week eleven I gave myself a 'mind over matter' pep talk and headed out for dinner with friends where, after catching a whiff of moules marinière, I threw up in the toilet, blamed my lack of appetite on a large lunch and then cried all the way home. There were several bizarre occasions when I craved massive platefuls of carbs, almost to the point of compulsion (frozen Yorkshire puds with gravy were a go-to snack) yet after eating them I would feel so rotten that I would either have to be sick or go to bed to sleep off the dirty carb-coma. My freelance articles went completely by the wayside, I made feeble 'stomach bug' excuses for almost all my pre-booked work engagements, I snapped at the boys for making too much noise and I stopped replying to texts from friends who were in the know because I was just not in a positive enough mindset to start thinking about baby names and pushchairs. Even writing this is making me sound mardy but I wanted to share it because I have had so many messages from women who are beating themselves up for not 'cherishing' the first trimester (and beyond) and I believe so strongly that saying, 'Jesus, this is a bit shit' doesn't make you ungrateful for the bigger baby-carrying picture. Sickness aside, there are a great many pregnancy quirks, for want of a better word, that I'd forgotten about and some of these have proved more comical than others (now that I have shaken off the feeling-rotten cloud I am laughing a lot). My boobs are massive, which, as the owner of 'B cup on a good day' breasts (the bra-fitter's words) is no bad thing. However, they are also dry and itchy (I guess from where the skin has been stretching?!) and when I removed my over-shoulder-boulder-holder the other day a shower of body dandruff flaked out. I know. I've become so sexually disinterested that I think my vagina has gone inverted. Figuratively speaking, that is, because in a literal sense quite the opposite has happened and there are now parts down there that look like they are on steroids. This is at month five. I can only assume that by month nine people will be renting out the inflatable space for a quick game of Total Wipeout. The cellulite on my arse and upper thighs has quadrupled in surface area and the growing baby pip in my tummy has given me the world's worst wind. I also have the chin of a pubescent teenager, with new spots appearing out of nowhere. You have all been so kind with your comments on the pregnant photo of me on holiday but you should know that I made my husband take at least twenty snaps before deleting nineteen of them and putting two filters on the sole survivor because I have never felt less attractive. If my first and second pregnancies weren't evidence enough then the first half of this pregnancy has well and truly confirmed that I am a grower and not a glower. On a more serious (and non-fanny-related note) I've found myself worrying a LOT. The more time I have spent on social media, the more I have come to realise that carrying a healthy baby to full term is not something that should ever be taken for granted and I can't help but feel that, on reflection, I was a bit blasé (albeit unintentionally) during my previous pregnancies about the enormity of bringing another life into the world. I am way more on edge this time, like it's all too good to be true somehow. My brain went into overdrive on the way to our 20-week scan and hearing that everything was as it should be with the baby at this stage was just such a relief. We do have to go back at 32-weeks for another scan because at present the placenta is covering my cervix (and if it doesn't shift it'll be delivery via the sun-roof) but my thoughts about that are: a) there's ages for it to shift yet, and b) I honestly don't care how he comes out as long as he's ready. So there you have it, a slightly rambling write up of how things have been and how I am feeling at this halfway stage. I am not planning a regular 'pregnancy update' style feature as I'm sure there is only so much you'll want to hear about my body dandruff and blow-up vulva but I will document any significant developments because despite my initial wobble about 'oversharing,' it struck me while writing this post that oversharing is all I know. And I am truly very happy to be oversharing this third-baby adventure with you. FEATURED ADVERTISEMENTS
Out of the Frying Pan ...
Do you ever look at families doing spontaneous, adventurous things and think I wish we could be like that? I do. One of the great many things I have admired other parents doing (from afar) is taking their kids to festivals. With an almost-three-year-old who is at times so 'spirited' it causes a stop-and-stare scene in Primark, I've often wondered how we would fare in a tent for three days, particularly noting that we are regularly forced to separate him from his five-year-old brother when their naked wrestling ends in crying and/or head injuries. That said, as a family who enjoys spending time out in the fresh air of Dartmoor or the seaside (the perks of living in Devon), the non-tenty part of going to a festival started to appeal more and more. After doing our annual Glasto-watching, from the sofa, we decided our time had come and booked weekend tickets, with camping, for our first family festival. We strongly believed it would be the start of something. We'd probably get the camping bug and for every year thereafter there would be pictures of us all on Instagram doing peace signs in a field full of flags. We couldn't wait. A few days before our great festival adventure, a friend alerted me to the weekend's weather forecast. 'Sunshine with a chance of showers' had slowly morphed into 'you're absolutely fucked' and we started to fear that we may be ill-equipped for a weekend of soggy bottoms. Undeterred by this latest development, we headed to one of those massive camping shops to stock up on waterproofs and wellies (I am truly very sorry to anybody who ventured into the display 'Force 10' mountaineering tent after my kids last Wednesday, I'm afraid one of them decided to let rip with a force ten of their own). We knew, as we set off early on Friday to black clouds and surface spray on the roads, that we were probably not going to make use of the camping chairs we'd optimistically ordered when we'd pictured sitting outside with a glass of something cold listening to live bands. We also knew that the 'ginger' hair spray we'd ordered so Henry could dress up as Ed Sheeran (alarmingly more neon orange than ginger, turning him into Johnny Rotten), would almost certainly run down his face and neck, transforming him into a giant wet wotsit and yet still we were excited. Perhaps the rain would make it even more fun. We'd still get to create the peace sign festival photo, we'd just be caked in mud as well, which let's be honest is even more festivaly. We just needed to embrace it. And we tried. We really, truly tried. With kids on our shoulders we bounced along to Mister Maker, whooping as The Shapes appeared (the actual 'I am a shape' shapes off the telly - it was practically the same as being front row for The Killers at V Festival in 2009). I reminisced about my youth as All Saints took to the stage and the four of us snacked on churros and chocolate sauce. We went on the 'spinny ponies' (the carousel), whizzed down the Helter Skelter, tried on silly costumes in the fancy dress tent and watched a variety of comedy and music performances. The whole thing, it has to be said, was bloody well organised. But it rained. It rained and it rained. We cracked out the emergency ponchos and repeatedly told ourselves that despite having wet pants, we were still enjoying it (easier to do when you're drinking, I imagine, which of course I was not). We went back to the camp for tactical respite from the downpours only to find the tent itself was damp inside as was everything of ours that wasn't inside bin liners. Having packed a coolbox full of food to cook up like proper happy campers, it was raining too hard to cook anything so we sat and ate cheese sandwiches with a side helping of Haribo. It was just not quite what we had pictured.. And finally, there was the incident. In any holiday or weekend away there is almost always an event or a moment that will forever stick in your mind and for me, that incident happened the early hours of Saturday morning. After returning to the tent on Friday night, sodden, we'd changed into pyjamas and snuggled down in our sleeping bags. Though the usual levels of bedtime hyperactivity ensued ('No YOU'RE a poo-poo fart head HA HA HA' and so on), it wasn't long before we were all drifting off to sleep to the sound of rain on canvas. Then at around 3am, I woke up bursting for a wee. If you think you know what's coming you probably do, though I surprised even myself with the detail of what happened next. When I say I was bursting, I mean I had a genuine fear that I might not make it to the toilet - this always feels like even more of a threat when I'm pregnant, I seem to lose all 'holding on' ability. This worry was only worsened by the fact that I didn't pack my glasses and without my contact lenses I am not far off needing a guide dog, so there was simply no way I could successfully locate my waterproofs (it was still raining hard) and find my way down a slope to the portaloos and back to the tent again. So, after rummaging around in the dark for an emergency container, I did what I could with the tools I had to hand. I did a wee in our frying pan. As I tried to assume the squat position it occurred to me that the shallowness of the pan could possibly present an aiming accuracy issue and so, to combat this, I decided to switch positions and straddle it. It was at this very point that my husband stirred and I froze, terrified he would turn on the torch and discover his pregnant wife with her trousers down, riding a frying pan. It was also the exact point at which I decided that festivals, in the pouring rain, are just not my bag. After another day of trundling around in further downpours we had a soul-searching emergency family meeting back in the tent (yes, I washed out the pissy frying pan) and decided that, all things considered, we would rather be at home. Which is exactly where I am typing this blog this morning. I wouldn't say that the weekend was a disaster. The boys behaved well pretty much the whole time and that alone has given us the confidence to know that we can do these things in future. It just turns out we are not a 'make the best of it' '#therainwontstopus' type of family. The rain did stop us. It was too wet and driving out of the field with our windscreen wipers on full speed felt quite liberating, in the end. There's always next year though, right?(Or hotels. There's always hotels). Our Camp Bestival adventure wasn't sponsored - we paid for both our festival tickets and camping passes - but I would still like to say that bar the shitty British weather, we were very impressed.
10 Things I've Learned in My 1st Year as a School Mum
1. Schools still smell the same as they did in the 90s. Like PVA glue mixed with cabbage. 2. It doesn't matter how nice they are, teachers make you feel like you are ten. You'll want to impress them and, despite being a fully-functioning adult who left primary school decades ago, you will find yourself at parents' evening sitting on Borrower-sized chairs worrying that you're about to get told off. Yes, Miss. 3. Your level of parental organisation will have a direct correlation with where you are in the school year. For the first few weeks, when you are as keen as mustard, a crisp uniform will be lovingly laid out the night before, books will be read dutifully in the evening and you'll arrive at the classroom on time. By July, your child will be dragged out of the door wearing something resembling a uniform (including odd socks and a greying polo shirt you had to sniff) as you bust a bollock trying not to be late, again. 4. Phonics seems like the most cock-arsed way of doing things until you realise your child has developed the tools to start reading themselves. Which, after a year, is pretty marvellous. (Just don't attempt reading when either of you are tired – I nearly had a breakdown in the first term over Tim's Din). 5. Schools can't get enough of Comic Sans, a font which most of us thought had died out at the turn of the century. I think they must use it because it makes the letters in the book bag seem friendly.* 6. Extracting info from your child about what they have been up to requires a snack bribe and/or Chinese water torture. It might as well be classified info. What the chuff do they do all day? The only information freely offered relates to school dinners - I can confirm that Henry has consumed upwards of 150 jacket potatoes since September. Oh and 'school roast dinners are nicer than Mummy's!' Super. 7. There is no pride quite like the pride of watching your child in their first Nativity play or end of term dance performance. 8. There is also no guilt quite like missing Sports Day (sorry H-Bomb, Mummy had to work). 9. On the very last day of term your child will look like a giant compared to how they looked on day one. They will also have developed an attitude, a sassy eye-roll and quite possibly knowledge of 'naughty words'. ('Please don't call your brother a 'penis butt crack.') 10. Teachers have a bloody hard job and don't get enough credit. I will be forever grateful to the reception team in Henry's class for taking care of him when he cried every morning and then, when he found his feet, for putting up with his daily renditions of Despacito. Respect of the highest order. If you are worried about your little one heading into school for the first time in September, please know that it will all be okay. You can see how emotionally charged I was the day before Henry started school and we have lived to tell the tale. *MY MIND HAS BEEN BLOWN by the response to this question! It seems Comic Sans is widely used by schools because it has the right form of letters e.g. the 'a' kids learn when reading and writing. So there you go. I promise not to wince at it in future ;-)
A Response to THAT Mail Online Article​
Dear Anna May Mangan I would usually start a letter with some textbook niceties, perhaps 'I hope this finds you well' or something about the weather, but I am just about to stick some fish fingers in the oven and crack open another bottle of Sauv Blanc, so I'll cut to the chase. When I woke up this morning I discovered I had an unusually high number of social media notifications alongside several 'Have you seen the Mail Online, yet?' messages. A couple of years ago, this early morning flurry of online activity would almost certainly have thrown me into a sicky panic but this morning there was no such fear as I clicked through to your article. I already knew what it would say. In fact, if I had put money on it, I would have been on the lookout for a five-point attack: Something about being slummy. Check. Something about swearing. Check.Something about alcohol. Check.Something about fish fingers. Check.An overarching message about how mums should cherish every single moment. Check. I do think it's a bit of a shame that you felt the need to attack a group of mum bloggers and authors but I completely understand why you did. We are terrible parents, or at the very least we are all masquerading as terrible parents simply for likes and shares. That's not how us mums should behave, I can see that now. It would be so much healthier for the maternal nation if we all swept our bad days under the carpet and captioned every photo with #blessed. I promise I will try harder. The thing is, if you had actually taken the time to properly read any of my stuff you would have come across the many heartfelt chapters I've dedicated to my boys, and indeed my own mother, who died of cancer when I was young. You would have known that I regularly beat myself up for not cherishing every sodding second but that on balance, I have decided that sharing the good, the bad and the ugly is more important. Potty training is ugly. Fact. You say that you, 'appreciate how this 'honesty' could make new mums feel less isolated and more reassured' but I couldn't help but mutter 'bullshit' when I read that token paragraph, particularly noting that you also say, 'these arrogant women shouldn't forget that, as well as being hard, a new baby is a gift.' That was the point at which I knew I had to say something. For all the mums out there who, like me (and Katie, Clemmie, Steph, Helen and Ellie - all good pals of mine, actually, we like to have Slummy Mummy Squad meetings), might read your bile and feel bad for having the odd moan. Admitting to serving up beige frozen goods ('freezer tapas' we like to call it, we're very middle class), confessing to the odd hangover and occasionally ranting about the inability to go to the toilet without a small person trying to unwrap our sanitary items is not boasting, Anna. It's just real life. Whether or not you choose to believe that what we are documenting is in fact our real lives is not really any concern of mine. I shan't lose any sleep over a lack of endorsement from the Mail. The point of this post is simply to say shame on you for failing to recognise the wider importance of this so called 'slummy mummy movement.' If taking snaps of fish fingers, cursing the bastard stray Lego impaling my feet in the middle of the night and offering a virtual hug to mums who are having a shitty day is wrong then shoot me down, I don't want to be right. I would like to conclude by saying a massive thank you for sending an extra thousand or so followers my way just this morning, and pushing both my books back up the chart (I'm guessing that probably wasn't your intention but I am ever so grateful, thank you). I couldn't help but think your mention of our bestselling books smacked of jealousy, which I can't for the life of me understand when your own parenting manual, The Pushy Mother's Guide, sounds like an absolute classic. Have a lovely day, I know I will. Yours sincerely, Sarah TurnerA boastful slummy mummy from Devon.
This morning, when I got back from doing the school run, I unlocked the door, awkwardly shimmied past Jude's pram and Henry's scooter - both of which appear to be permanently wedged in our hallway (a standoff over who should clean the mud-encrusted wheels) – and then, in a slapstick Tom & Jerry style move, I trod on PC Selby's police car (one of several Postman Pat toys young Jude received in his stocking from the big FC) and I went flying, travelling at least a metre towards the stairs with my arms flailing. Had it not been for the pram, which I grabbed hold of on my way to the floor, I think I might have broken something. Or died. Imagine that! Death by treading on PC Arthur Selby's police car would be such a tragic tale, would it not? Anyway, the pram came to the rescue so I felt bad for having cursed the 'twatting obstacle course' on my way out. I must have looked all kinds of ridiculous taking flight with one foot on a toy vehicle and both arms windmilling, and, after an initial chuckle to myself, I had to have a little sit down on the sofa to recompose myself, a bit like old people do when they've 'had a fall.' As I assessed the state of the living-room - which looks a lot like we've been burgled with all the contents of the drawers and cupboards spilling out onto the floor - I realised that the toy explosion in front of me was evidence of the morning we'd had before the school run. It told a story, and as I sat for a moment I allowed my mind to piece it all back together: 'Baby Richard' the dolly, discarded to one side because Jude had got bored 'feeding' him so had plonked him down and moved on to take a call from Miss Rabbit on his phone. The plastic toy tub, upturned, because Henry had been wearing it on his head, shouting, 'I am a Dalek!' The stacking cubes arranged in an unconventional top-heavy tower alongside a pole which started its life as a mast for a toy ship before the ship fell foul of rough play and ended up in the 'Bye-bye box' in the loft (absolutely not at the dump if Henry asks because we are not allowed to take broken things to the dump or put them in the bin, not even broken pen lids). To the side of the boxes lay a collection of Nerf bullets which, I realised, had been forming the basis of a 'trap' – Henry is very much into making traps these days and although none of them actually work we must pretend they do, which is all well and good until you're trying to cook dinner and get called away from the hob to theatrically act out being caught in his non-existent deadly webs. PC Selby's police car was positioned as a death-trap in the hallway because prior to us all having trudged out into the cold it had been PC Selby's mission to save a Sylvanian rabbit from 'the witch' who appears to be everywhere both inside and outside of our house at the moment, despite being invisible. I have lost count of the number of times since becoming a parent that I have cursed the state of the house, muttering under my breath about the 'piles of plastic crap' and sighing at having to contort myself into a size zero to get past that pram which has left the already-narrow hallway so snug I pretty much had intercourse with the electrician as I showed him out the other day. But this morning, as I sat in a quiet house, staring at the usual trail of destruction, I saw things differently. I reviewed the evidence. And for once, I wasn't looking at it like it was the evidence from a crime scene, nor was I rushing to stuff all the toys back into their boxes while wondering aloud why I bloody bother tidying up in the first place. Because, I realised, the chaos is what makes our house a home. The toothbrush on the side reminds me of the daily battle to get my two-year-old to let me brush his teeth, which usually results in him trying to bite me and somebody crying. The mud-encrusted pram reminds me of the walk we went on where we argued about the suitability of the terrain for our pram (I feel I have made my point). The washing draped over radiators and chairs reminds me that I haven't been on top of the washing situation for the last four years because kids are messy and life is busy. The dishes on the table remind me that there were two boys shovelling Weetos into their mouths while singing 'Jingle Bells, Batman smells, Robin laid an egg' and laughing so hard that milk came out of their noses. All of it, the total pandemonium, is what reminds me that there are children living here. It's not a showhome, it's a family home - it's messy and lived-in and loved. Yes, I will continue to curse the pram as I bash into it with my hip and I will continue to nag my children to put a few things away so it looks slightly less like a tornado has hit. But just for a moment this morning I imagined photoshopping all the chaos out of the picture and I didn't much like it. One day, the time will come when the dining table is clear, the cupboards are tidy and all the washing is up to date. Perhaps it will be when my children have grown up and moved out, when I have started grilling them about their relationship statuses to assess my chances of becoming a grandmother. One day, I reckon I will have the sanctuary of calm I so desperately longed for only it won't feel much like a sanctuary at all. I will miss the chaos. So thank you, PC Arthur Selby in your tiny police car, for being kind enough to trip me up and remind me of that. I would like to apologise to anybody who has clicked on this blog post hoping for something mathematical about deterministic dynamics or some clever commentary about the 'butterfly effect'. I'm afraid this post doesn't really explore Chaos Theory at all.
The Unnecessary Pressure of Christmas
Last year I had a bit of a moan about how fancy Christmas is getting. I questioned the necessity of Christmas Eve boxes and slagged off Panettone because I was feeling nostalgic about Viennetta. This year? Well, this year I'm feeling pretty much the same so it looks like an annual 'What the fuck has happened to Christmas?' blog might be on the cards. This isn't a Scroogey post, though – far from it, in fact, I'm a massive fan of Christmas – but earlier this week I found myself getting stressed over all the impressive things other people are doing/planning that I haven't been doing/planning and I figured that if I'm stressing out, the chances are some of you are, too. So this is my attempt to reassure you that you are not failing at Christmassy parenting just because you haven't hand-sewn an advent calendar out of sheep wool you've flown in from Nazareth. I'm bewildered by some of the Christmas-themed conversations I've seen online lately and the final straw came when I stumbled across an entire thread dedicated to mums debating which Christmas theme to go for this year. What do you mean which theme? I read on and discovered that one mum is having a 'monochrome Christmas' because it looks classier. Another is accessorising with pastels this year because the bright colours clash with her sofa and the third isn't sure yet what to go for but crikey, isn't it hard work coming up with the decorative theme every year? I wanted to scream at my computer, 'CHRISTMAS! THE FUCKING THEME IS CHRISTMAS!' but I didn't because it was obvious I had stumbled into a zone that wasn't safe for me, like the Helmand of mum chat, so I muttered, 'monochrome my arse' and shut down the browser. What the bloody hell is a monochrome Christmas? OK I know what monochrome is – everything is black, white and grey or varying tones of just one colour - but that's not Christmas, is it? Is it? Christmas isn't supposed to be classy, right? Christmas is bright and colourful and chaotic and brings together a hodgepodge of decorations bought from random places or handmade by kids over the years. Granted, this was just one thread. But over the course of a few days I was drip fed-further images of impressive festive creations and elaborate Things to Do lists and I couldn't help but feel a bit sad. So much seems to be expected of parents in the run up to Christmas nowadays. Firstly, you have to trample over people in the supermarket on Black Friday as you panic-buy presents you don't really need but feel you ought to buy because of the colossal savings off the list price they definitely didn't hike up the week before. You then have to think about December 1st. What are you doing for advent? Some people are doing book advents, some people are doing craft advents, some people are giving away a clue as to where the chocolate is hidden each day - because if life wasn't already busy enough you can now get up ten minutes earlier to facilitate a daily fucking treasure hunt. Don't forget to get the elf down for the shelf and make him do cheeky things every day. Well, we've got shop-bought advent calendars for the boys again this year and they're chuffed. We do have an elf because we've discovered the good-behaviour bribery potential is strong, but he doesn't write messages in Weetos or cosy up to Barbie because I haven't got the time. He basically just moves around the shelf and the kids think that's amazing. I suppose my point is that Christmas isn't about the showy stuff. Unless, of course, you want it to be. If you want to pay for a personalised letter from Father Christmas and arrange a visit to a top notch grotto (with a Santa so true-to-life he must have been through Santa Factor boot camp and Judges' Houses to secure the role) then do it. You need not defend these actions if they mean something to you. But don't do these things because you feel like you ought to, or worse because you're worried your yuletide Instagram feed looks a bit shit. So what if Derek from the garden centre's black moustache is visible over his Santa beard in the picture and the gift he's given your son is a shit plastic toy for the bath when you don't even have a bath (true story). Kids are brilliant. Kids think Santa knew you didn't have a bath but bought the toy for their outside water tray. Kids don't get to Christmas Eve and think Christmas is ruined because there isn't a personalised ceramic plate for the mince pie and carrot or because they haven't got new pyjamas in their 'Christmas Eve box'. They don't wake up in a cold sweat because you forgot to buy them glittery reindeer food to sprinkle on the front door step. For me, the build-up to Christmas will always be about leafing through the Argos catalogue, putting the tree up without any regard for monochrome classiness, eating tins of chocolates, drinking Buck's Fizz, watching Home Alone and dancing around the living room to Shakin' Stevens. Tuesday is set to be the greatest moment of the year so far when I get to watch my little Henry Bear be a shepherd in his first nativity ('Get that fire going!' - I've been saying his lines in my sleep). That's Christmas. I bloody love it. This isn't my way of shaming anybody who is borderline professional at festive stuff. I just felt I needed a moment to re-focus on what's important and what's important is different for all of us. It's whatever stuff we believe to be important. Don't get swept up in doing shit you don't really want to do.Don't worry about keeping up with The Clauses on social media.Don't put Derek out of business. Have a proper Crimbo.x
Here We Are, Then (Henry Starts School)
I considered not writing this post at all, suspecting that whatever I typed would fast become a starting school cliché ('Where has the time gone? I just can't bear it!' and so on). But I have been a walking mess of emotions for the past few weeks and shy of hiding in the fridge sobbing into Dairylea triangles (again) I didn't really know where else to go with it. [Spoiler alert: this post is one hundred per cent a starting school cliché - seasoned school parent pros need read no further]. The truth is, I have looked ahead to this moment many times over the last four years and I quite honestly never expected that I would be one of those mums. The criers. The ones who get struck down with My Baby is Starting School pangs in the middle of Tesco. The ones who make an excuse to escape to the kitchen with a lump in their throat when the uniform is tried on for the first time. The ones who scroll through toddler photos from two years ago on Timehop and say, 'I just can't believe it.' Yet here we are. Timehop presents me with a photo of my about-to-start-school child from when he was a toddler, waddling around, not quite able to master walking in his wellies, and all at once I am floored by a hurty heart. Just like that my Henry Bear, my biggest boy, is going to school. Joining the hordes of reception-starters, he'll be making his way through the school gates in the oversized uniform I've dutifully labelled with name tags, carrying a book bag that will come home bursting with reminders about things we need to do to help him succeed at numeracy/phonics/life. Parents of children already at school tell me this overwhelming emotion will soon become a distant memory and I have no doubt that when term begins next year I too will be skipping up the road and updating Facebook with, 'Lovely summer and everything but thank God for that!' I will know the drill by then. I'll be used to having a school-aged child and I'll have realised that the school day is actually quite short (and that it's never very long before the next holiday, which will present me with all manner of work/childcare issues). With a level-head on I already know all of these things but level-headedness rarely makes a guest appearance in Parentland, does it? In fact, Parentland has proved the biggest mind-fuck of a destination I've ever been to and that's without the use of any narcotics. Parentland is maddening and hilarious and weird and makes me cry all the bloody time. It's not that I don't want Henry to go to school. I do. He is more than ready to go and I'm excited for him. It's just that seeing him trying on his uniform this evening, singing along to his favourite song (Coldplay's Yellow - he demands it on repeat), I can't hide from the fact that he is growing up. In any normal week one day rolls into the next and it's easy not to see it. Sure, he grows out of his clothes and shows an interest in new TV programmes or games so I know he is growing up. But I don't stop and take stock of that. Life's too busy. School very obviously marks the start of a brand new chapter, which is no bad thing it just means I have to accept that a line is being drawn under the old chapter - the one where he was baby who was sick all the time who then became a toddler who called all animals, 'cat!' and later a pre-schooler who made me howl with laughter at his naked living-room dancing. I have moaned about him a lot over the last four years (because he's annoying – really, he is) but this last year has seen a change in our relationship. He makes me laugh. He's bloody good company. I will miss him. There have been times when I have muttered, 'Roll on school!' and I could give you some bullcrap about how I didn't really mean it but in all honesty at the time I definitely meant it. I think maybe that is why I am so sad. Because I never enjoyed the earliest days as much as I could have. On top of the fact that I am distraught at him going to school (not an exaggeration) I am also worried about how I will fare as a school mum. I've bumbled through the last four years of motherhood on a wing and a prayer and I'm fairly sure my maternal incompetence will be outed sometime in the first term. The other mums might have read my book. What if they stand in the corner of the playground whispering, 'There's that mum who called her baby a dick. Look how creased his trousers are - I did read she doesn't iron anything. Oh and there's her husband. Do you know he once had to milk her?' I hadn't thought this through. But it's not about me. And my main worry is not how bad I'll look when I put Henry in his skeleton pyjamas for World Book Day (Funnybones, yes he has worn them for the last two Halloweens), my main worry is how he will get on. Will he enjoy it? Will he make friends? Will he manage to remember that not everybody wants to abide by his rules when playing Star Wars? Will he fit in? He's too young for me to give him the school advice I want to give him. I want so badly to tell him the things I learned from school. That it's better to be nice than it is to be popular. That if you are nice you will be popular for the right reasons, because people like you. That if you strive only to be popular you will be popular because people think they have to like you, because you're popular (and that is not the same thing). I want to tell him to work hard, to play harder and to always be kind. I want to tell him that I am so very proud of him. I want to thank him for giving me something so wonderful that I will miss it. For allowing me to make a million and one parenting mistakes in the first four years of his life which will no doubt benefit his little brother (trial and error, it's the only thing I know). But I won't tell him any of these things. He's a sensitive creature and it would be selfish of me to burden him with the extra worry of his mother having the emotional restraint of Gwynnie at the Oscars. So, I will bite my tongue and in my best cheery mum voice I will say, 'School tomorrow then buddy! How fab, you'll love it.' I will keep things upbeat. I won't make it too big a deal. I will do all the stuff I hope will make school easier for him and none of the stuff that will make school easier for me. I know it is probable that at some stage he will cling to me and tell me that he doesn't want me to leave (we had four months of that at preschool, it broke my soul). Every ounce of my being will want to stay there in the middle of reception class holding onto him, but it would start to look a bit weird. So I will be firm, because that's what parents do. And he will be fine. I will not be fine. I will come home and cry and eat Dairylea triangles and say, 'Where did the time go?' That's Parentland. The best place on earth. The worst place on earth. I bloody love you Henry Bear.Go get 'em.
Why Parenthood is Nothing Like I Imagined
Not so long ago somebody asked me whether life as a parent was 'everything I imagined it would be' and I laughed so hard that food came out of my nose. 'Oh yes,' I replied, after realising that this was, in fact, a genuine question. 'It's everything I imagined it would be and more,' adding a slight grimace which I hoped delivered the honest subtext of 'Absofuckinglutely not.'Remarking on all the failed expectations of parenthood is actually one of my favourite pastimes. Not in a 'Wow, look at all the things I hoped I would do/say/be as a parent, I'm none of them hahaha!' way but just a chuckle over all the shit I thought I would do.Except that's not strictly true.Clear as a toddler's backwashed sippy cup? Allow me to explain. I'm not saying I have lied about imagining a whole host of shit I've subsequently never come close to doing, I'm saying that imagining doing these things is not the same as genuinely believing that I would do them.Is anybody still with me? (This feels like the bit in Titanic when Rose is calling the rescue boats back and begging Jack to stay with her but it's too late because his bollocks have frozen after she hogged the floating door big enough for two). Stay with me Jack, I'm getting to the point. My point is that deep down I knew my vision of parenthood was unrealistic even before I threw a baby into the mix. And that's actually got nothing to do with parenthood itself, not really, because I've been setting myself up to fail with unrealistic imaginings all my life. Before I started secondary school, I imagined that I would be instantly accepted by the cool kids and that I'd successfully attract a boyfriend to hold hands with between lessons. Only it turns out that when you have Deirdre Barlow glasses engulfing two-thirds of your face and you team ankle-basher trousers with 'square' shoes from Clarks (because your mum wouldn't let you go to Shoezone and get the platform ones) you never do slot straight into the cool crowd. In fact, you later find yourself in Year 11 with nothing to show by way of romance except a drunken snog in the Football Club car park with a boy you suspect was sick before he kissed you. When I started working in finance, fresh-faced from University and keen as mustard, I imagined that I would swish around in pencil skirts and deliver dynamic presentations so impressive they would leave senior management bamboozled. Credit where credit's due I had a pretty good bash at swishing around in pencil skirts and delivering presentations but I also had spells of mediocrity. I got things wrong, I didn't always make a dynamic impression and I once managed to get myself locked in the staff toilet where I had to be rescued by a commercial banking manager who climbed over the top of my cubicle and gave me a leg up (upon re-entering the office from the toilet I discovered word of the escape had spread and I was greeted with a round of applause). Work life wasn't always very swish, in the end, but it did provide years of laughter. Parenthood has taken these unrealistic imaginings to a whole new level because every stage of the parenting game brings a new anticipation. When I first imagined myself having children I visualised a mum who would rustle up fresh pesto with a pestle and mortar, while listening to Jazz. Who would glide around looking positively glowy with her baby in a sling and her toddler sat nicely doing crafts (she would exude maternal confidence and have all sorts of educational crafty ideas because that's what imaginary glowy pesto-pulsing mums do).Only I've never been a glider, not ever, and there's nothing about passing a small human out of your fandango that automatically makes you more glidey, is there? The reality is that I'm clumsy, I walk into things, I always seem to manage to get the belt loop from my dressing-gown caught on the door handle so it pulls me backwards with great force. I'm crap at cooking, I hate crafts. It's never been the boys' fault that I haven't blossomed into the beacon of delicious yummy mumminess I imagined. That was never my calling. My calling has always been slightly crummier. I just imagined a sleeker version because that's what imagination does. It creates expectation.So you see, it's not exclusively parenthood that has failed to become 'everything I imagined it would be'. It's just that by their very nature our imaginings are a bit fucking daft.They are also inevitable. Which is why I can't help but imagine myself absolutely bossing the role of School Mum when Henry heads into the classroom for the first time this September. I'm imagining that I will be on top of costume-making and cake-baking and the trillion emails I'm told I can expect every day. I'll have a magnetic family organiser and I'll have my shit together at all times. I imagine..
The Extraordinary Ordinary
This evening I went out for a jog. When I say 'a jog' I mean I walked around the park at the end of our road at a pace slightly faster than my usual stride, which is hardly a challenge given that my usual stride is one step forwards and five steps into somebody else's garden chasing a feral toddler. How fast I was bumbling around the park tonight is kind of irrelevant to this post, I'm just setting the scene, as it was during this uninterrupted walking time that I started thinking about life. Life in general. Everyday life. And how all too often there is build up and expectation attached to daily events, moments and milestones which can leave us feeling under pressure to feel a certain way. Feelings are not like that. By their very nature you can't create feelings or build up to 'a moment'. Something either gets you in the feels or it doesn't. I need to rewind to this morning for this to make any sense. First though, I need to tell you how years of watching sentimental films and TV dramas has set me up to fail on the feelings front. Real-life is nothing like film-life. Of course, we all know that movies are not real life but once you've internalised a whole catalogue of film 'moments' it's hardly surprising if you start to expect life to play out like a script every now and again. Don't get me wrong, it's not as if I sit at home every night hoping the knock on the door is Andrew Lincoln instructing me to pretend it's carol singers and declaring his undying love for me on handwritten cue cards. James has never once dressed up as a fighter pilot and serenaded me with You've Lost That Loving Feeling but I fell for him nonetheless. Films have simply left me expecting emotional moments that just haven't happened. Parenthood has brought about the absolute worst of this disappointment because parenting moments are so well-documented on the big screen. Moments like childbirth, where the parents always share a cuddle and a cry when the baby is born. My boys were delightful and I was over the moon to hold them against me but I didn't cry. I can remember thinking, 'Should I be crying now?' No tears came. More generally, there are all those scenes in films where motherhood looks amazing. Even when it's portrayed as chaotic it looks like fun chaos – cereal spillages on floors, lots of noise and laughter, the odd slamming of a door that is later resolved by an emotional chat over fresh coffee and lots of meaningful eye contact. The chaos in my life can be fun too but milk on the floor generally results in a head injury and we tend to save all meaningful eye contact for our smartphones. This morning, however, something special happened. A special feeling. I had taken Henry to his first ever gymnastics class and after waiting awkwardly outside, not really knowing what was expected of me in this environment, it was time for him to go in. I have taken him to other classes before – music, drama etc. but these have always been things I have joined in with (to be honest, by the time we stopped the music classes I had found myself running around in a circle doing the animal actions while he tried to climb the chair stacks and steal other people's shoes). This morning was different, though, because he is four and has joined a group where you just leave them to it. No big deal. Only it became a big deal for me as I stood there and watched him through the glass. Watched him trot in with zero fear, confidently taking a seat on the mat among the other boys and girls and proceeding to follow them around in a gym circuit, stretching his arms out as he balanced on the beam and joining in with floor exercises (where he was understandably two steps behind everybody else but persevered with such a happy face). He was in his element, and when I saw his eyes searching for me I jumped and waved and mouthed, 'Well done!' with a huge thumbs up from the other side of the door. He returned my thumbs up with a long-distance fist pump and then, just as quickly as he had looked for me, he looked away and slotted straight back into the class. It was nothing like anything you would see in a film. There was no moving soundtrack, no pep talk from me telling him I knew he could do it, no slow-motion shot of him leaping off a balance beam and landing gracefully on the mat to rapturous applause from the rest of the gymnasium. Nobody else noticed anything remarkable. But I did. To me, it was extraordinary. My boy was extraordinary. I fought back a lump in my throat as I stood there in a sweaty-smelling gym corridor and realised, with mild amusement, that it was the most proud I have ever felt about anything. So this evening, as I found myself out walking and contemplating life-in-general, I realised that I have been looking for the wrong moments. Or at the very least looking in the wrong places. Perhaps I shouldn't have been looking at all. Feelings aren't like that.Feeling just are.Like pride just was for me, today.
Cherish Every Moment? Nope.
I was asked last week what advice, if any, I would give to brand new parents. I couldn't help but think back to myself as a new mum. It made me feel a bit sad. The New Mum Me was a bundle of self-doubt. I wasn't doing anything right. I wasn't cut out for it. My baby deserved better. I was failing. The New Mum Me once stood in the shower with my fingers in my ears, crying, trying to drown out the sound of the nursery rhyme CD which in turn was drowning out the sound of the screaming baby I could not settle. When my husband returned home I could only recall the 5-minute neglectful shower (I was sure this had emotionally scarred our baby for life) and not the 9.5 other hours I had attentively fed him 'on demand,' cuddled him and whispered to him that he was the most perfect thing I had ever seen. So, with the magical wisdom of hindsight now bestowed upon me, I think I would tell brand new parents the following: You are not obligated to cherish every moment.It's true that you will 'never get this time again.' It's true that it will all 'be over in a flash.' It's true that one day you will wake up and wonder where the time has gone, why you wished the days away, how it is possible that your baby will soon be heading out into the Big Wide World (reception). At 2am, however, when you're not sure if the wet patch in the bed is leaked breast milk or leaked baby excrement, it is also true that you will quite justifiably wonder what the actual fuck has happened to your life. Nobody cherishes every moment. Yes, some moments are magic. But others are a bit shit. On a sleep-deprived/'cluster feeding'/nothing-stops-the-crying type of day, it is quite possible that the moment ratio will end up at 80:20 in favour of shit. Social media will never reflect this shitstorm because social media is not real life. There is no shame in asking for help.Asking for help is not a sign of weakness. Quite the contrary, it is a sign of strength. To be struggling and to admit that you are struggling demonstrates a kick-ass determination and fierceness in your ability to look after your baby. There is also no shame in putting your own needs above the needs of domestic chores. Of course, we all know that the liberally-offered 'sleep when the baby sleeps' nugget of wisdom is a bit of a joke (are you going to hoover when the baby hoovers, too?) but sometimes sleep is the most productive thing you can do with thirty minutes. Do not feel guilty about sleeping. If and when you have subsequent children you will kick yourself for not maximising naptimes the first time around, as you find yourself at the beck and call of a toddler who wants you to watch his Ninja Turtle kick for the gazillionth time. Have faith when people tell you that one day it will all be worth it.You might want to smack them in the face. But they are right. The New Mum Me who broke down in the shower couldn't see it. I was yet to feel my heart jump at the sound of my baby's giggle. I was yet to feel the overwhelming pride of watching him have a go at writing his name before looking up at me as if to say, 'I did it, Mummy!' If you're reading this as a brand new parent, I want you to know that there are magical moments to come. And some shit ones, too, which you are absolutely not required to cherish. That's what I wish I had known.
Paid Posts, Free Stuff and Gut Feelings
This isn't my usual type of post, which is ironic considering it has its roots in my reluctance to stray from my usual type of post. Clear as mud? Allow me to explain. I have always known that people blog for a wide variety of reasons. Because they have something to say, because they have something to sell, because they love writing, because it helps to pay the bills, because there is every chance they might get a whole heap of free shit. It's the latter two motives, the bill-paying and the free shit, that I have been thinking about for the last couple of months. Mostly (and in the spirit of this blog's honesty) I have found myself wondering if I am missing out by refusing to entertain the idea of sponsored posts and brand collaborations. In fact, I have been told several times that I am indeed missing out. That I could earn a substantial amount of money from paid posts (we're not talking a few squid to spend on the annual messy-night-out dirty burger here we're talking whole extra income territory). But (and it's not an insignificant but) it feels a bit like I've been offered a job I don't want. Quite simply, it's just not my cup of tea. And after much to-ing and fro-ing with a number of different people via email, I reached a pretty major conclusion at around midnight last night. I couldn't get to sleep and I realised it was because I felt uncomfortable. Not physically uncomfortable, like when your knickers are a bit small and you can't adjust them without looking like you're touching yourself, but uneasy uncomfortable. And just like that, a decision was made. I woke up this morning feeling like a weight had been lifted and I wanted to share this with you because I think it's important that you know exactly what you are seeing on my blog and social media pages. So, here's some upfront honesty from me about paid posts and free shit. Paid PostsI have never been paid money to promote a product on my blog or social media pages. I have obviously been paid to write articles/features for others (writing is my job these days!) but I'm talking about being paid by brands i.e. 'we'll give a few smackeroonies to post a link/blog about our exciting new highchair.' (Not quoting an actual email there, obviously, though it's not far off). After last night's moment of clarity, I've realised that despite tempting offers my stance on this hasn't changed, however I should add in the disclaimer that if somebody offers me a million pounds I will pose naked on their highchair with nothing but the brand's logo covering my modesty. Free ShitI have been given free stuff, which in itself is a kind of payment for the potential future sales generated by me having the free stuff and my followers seeing it. If it's something I would have bought or used anyway, or something I genuinely fancy getting my hands on after admiring it from afar, then it's all good (i.e. if I needed a highchair - which I don't by the way I'm just sticking with the highchair example - I might accept a free highchair in return for telling people where I got the highchair when they inevitably message me to ask me where I got the highchair). I may post a pic of the highchair. I am unlikely to ever post 'WOW look at my amazing highchair it has CHANGED MY LIFE' on Instagram (but you never know). There will also be no 'Reasons I Love This Highchair' or 'The Unmumsy Clan Test the Highchair 3000' blogs because I don't do reviews on this blog. That doesn't mean I won't do reviews for 'work' just not on here. I will never agree to casually dropping a key branded message into my post. In other words, I will not be told what to say (i.e. 'Having such a great day because the easy-wipe highchair tray is designed around the modern messy family' – you get the picture). HolidaysMore often than not, I will tell you where we've stayed on holiday. Sometimes, we will have been invited to stay in return for writing an article about it and sometimes we won't. If I love it, I'll probably tell you I love it because you might love it too. I will never accept money to tell you that I loved it. In a nutshell, you quite rightly trust that what I post and share is 'real' and my gut feeling tells me that this is how it should stay. This may change, of course, depending on a whole host of factors. But for now, I'll stick. (And I'm rambling now, so let's just leave it there). PS This is not a dig at other bloggers who are paid to promote stuff on their pages. This is just what works for me.PPS I am not including the static website adverts you see on the side or at the bottom of most sites - when I finally get my new website up and running I'll need those to pay for the site.PPPS This honestly wasn't an arse-about-face way of bagging myself a new highchair.